I'm not here to sell you credit cards and I don't get anything when you are approved for a credit card that I recommended (except possibly an over-inflated sense of self worth), so I guess keep that in mind? Here are a couple:
The American Express Personal Gold card with a heightened sign-up bonus that expires tomorrow for:

– 90,000 Membership Rewards after $4,000 in spend within 6 months
– 20% back up to $250 in restaurant spend (normally easy to MS, but currently a tad harder)

This card has a $250 annual fee and offers 4x at grocery stores for up to $25,000 in spend yearly, along with some annoying Uber and dining credits too. There is a direct link for the application, but if you can use a referral link — most of those have the offer available and the referrer gets between 10,000 and 30,000 Membership Rewards for referring.

I would have 20 of these cards purely for annual grocery spend if I could, the other benefits are just gravy. If you want to be cheeky by the way, ask AmEx for a retention offer a couple of months after opening the card and you'll probably get it as a secondary sign-up bonus.

The Marriott Bonvoy Boundless card with a heightened sign-up bonus of:

– Five free night certificates for up to 50,000 points a night, expiring in 12 months

Watch out with Marriott though. You'll find that many properties creep above 50,000 points on weekends, you'll probably end up paying for parking, you may end up with a resort fee, and you may end up #bonvoyed with a room over a 110 dB fan. This card is also subject to Chase's 5/24 rule, so there's that.

This one has $95 annual fee, but with the added parking and resort fees you'll probably be paying I'd just say that the annual fee is more like $350 after redemption and I'd make sure to cancel it exactly a year after opening.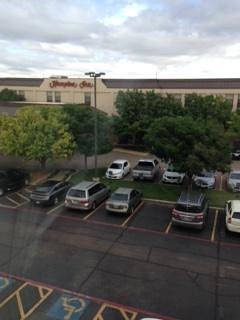 At least the Fairfield Inn & Suites Lubbock, TX is always less than 50,000 points and offers this gorgeous view from the fourth floor.