Today we're going off the beaten path:
I haven't written about the Albert debit card prior to today because I genuinely didn't think that it was going to work out for anyone involved, but it turns out that my spidey-sense was wrong on this one. There are now multiple reports of $500 referral bonuses being paid to both the referrer and referred, and Miles notes via MEAB slack that Albert has CashApp-like boosts for 10-20% back at major retailers that are paying out too.

The sign-up bonus is only available by referrals — so if you know someone with a $500 referral than it's probably worth your time to go for it. The terms for the $500 bonus are three consecutive months with $200 in direct deposits (I scheduled these) and three months of $100 in spend on the debit card too (I scheduled these too with a bill pay service). The best public bonus I know of is currently $150.

Virgin Atlantic has announced that Gold Elite members can book any flight for double the saver level at least 60 days in advance, up to eight segments per year. There's a very specific traveler that this will work well for: If you've got a fixed vacation schedule, for example because you're a teacher or have kids in school, you can still book relatively low cost awards even during peak travel times when normal award space might be non-existent.

Fortunately Virgin Atlantic status is easy to get (eventually) with the Bank of America Virgin Atlantic credit card because spending $5,000 per month for 12 months on the card will earn you enough tier points for Gold Elite status. But, spending more than $5,000 per month on a single card doesn't get you tier points any faster so you're looking at a year to turn this into reality without flying. If you apply for this card I'd suggest getting a few Alaska Airlines cards and some Business Cash Rewards cards at the same time.

Bank of America IT is rooted in the 1970s, so my hunch is that if you hold multiple Virgin Atlantic cards you'd be able to get the monthly tier point spend limit on each card, but I have no data points to support or reject that hypothesis. UPDATE: Reader Miles has experience with multiple Virgin Atlantic cards and confirms that two cards will allow earning tier points at twice the rate, and you can stack the companion and upgrade certificate from each card too.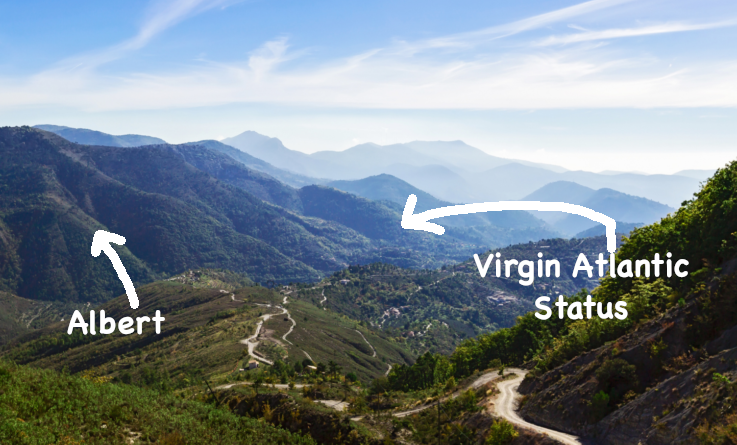 Our journey to find today's obscure news.