AmEx's New Deal
In Q4 2020, Q4 2021, and Q4 2022, American Express had special spend bonuses for cardholders that referred someone to a new card, seemingly a new annual tradition. Now, a new variant has surfaced and this one is tailor made for manufactured spenders as referrers with an increased sign-up bonus and reduced spending requirements for the referred. The deal:
A bonus 5x or 5% cash back on grocery transactions for up to $25,000 in spend for 90 days for the referrer, and a heightened bonus for the referred:
Platinum: 150,000 Membership Rewards after $6,000 in spend and a $200 statement credit
Gold: 90,000 Membership Rewards after $4,000 in spend and a $200 statement credit
Blue Cash Preferred: $300 statement credit after $3,000 in purchases and another $100 statement credit
To find the referrals, check the account dashboard for your cards, or check the referral landing site. Note that as of this writing not everyone has these referral offers available, though based on past behavior they'll probably roll out to everyone in the next couple of days.
Obviously you should prefer to refer from a personal Gold card that still has 4x spend capacity at grocery stores, because 4x+5x = 9x, so on $25,000 in spend you'll earn 225,000 Membership Rewards.
Tricking It with Shenanigans
Ok, but what if the referred account member is in the AmEx penalty box or the new card application displays a popup warning that the application isn't eligible for a bonus? Or, what if you don't actually want another Platinum card to worry about? Who cares! It's still easy to take advantage of the referral bonus because:
You can safely close an AmEx card before a year is up if you didn't get a bonus
You can get your annual fee refunded if you close a new card in the first 30 days
As long as the referred gets a new card, the referrer is eligible for a referral bonus
So, do the following with no known negative effects on P1 or P2:
P1 generates a referral for P2
P2 applies for a new card and is approved
[the sound of crickets]
P2 closes the card after a week or so, and the annual fee is refunded
P1 gets +5x spend at groceries for up to $25,000
Good luck friends!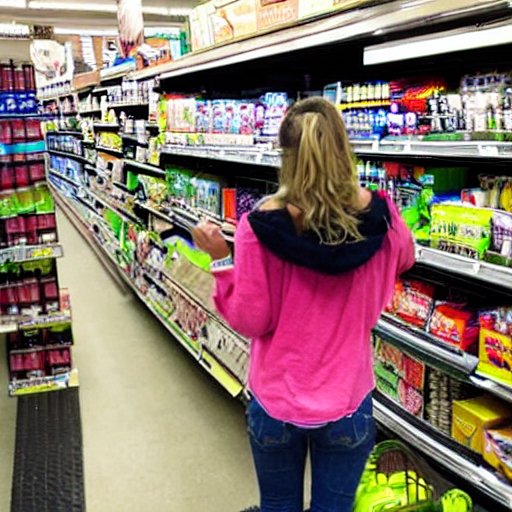 I asked Stable Diffusion to imagine "credit cards, crickets, and shenanigans at a grocery store", and well, there are indeed shenanigans here.