There's a short window to book Emirates economy and business class awards with Aeroplan miles at a lower than normal rate and with no fuel surcharges. In a few weeks they'll be publishing an Emirates specific award chart with higher cost, and some unspecified time after that the cost will get even higher, so now is a decent time to lock in any awards. (Thanks to VFTW)
JetBlue is revamping its frequent flyer plan for 2023 and adding new status tiers. There's a lot of "blah blah blah" in here, but there's also a nugget for gamers: top tier status will include six Mint upgrade certificates and four Blade helicopter airport transfers in New York, and you can earn top tier status completely with manufactured spend on a co-branded JetBlue card, much like with AA and with Delta. To compare:

– Delta Diamond: $250,000 co-branded credit card spend and earning 125,000 MQM (gaming is possible with AmEx shanigans)
– AA Executive Platinum: $200,000 co-branded credit card spend (gaming is very possible with portals and SimplyMiles)
– JetBlue Mosaic 4: $250,000 co-branded credit card spend

British Airways has added a way to pay more Avios and less cash for surcharges with the poorly named "Reward Flight Saver" tier for award redemptions. Travel hackers should note that this is probably a bad deal on flights leaving the UK, but may be a decent deal on flights to the UK which have higher surcharges.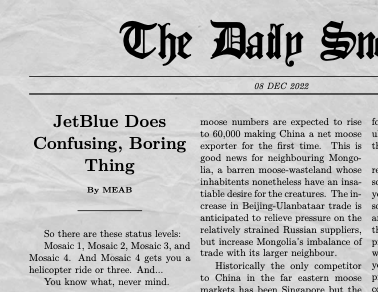 Yesterday's JetBlue press release.