There's a lot going on with new speculative products that we'll discuss soon, but for now let's talk about some active offers:
The PayPal Mastercard is now generally available for new applications. The current sign-up bonus is $100 after spending $500, but this isn't a card you get for the sign-up bonus. Instead you get it because:

– It's 3% cash-back everywhere you pay with PayPal or Venmo (some MS-friendly stores take both)
– It's a Synchrony card
– It's a Mastercard

The card gets 2% cash-back everywhere else, which is fine I guess.

You can currently earn 1,500 points transferrable to either AA or Hyatt by downloading the Bilt Rewards app for ios or android and linking your frequent flyer accounts. You'll earn:

– 100 points for linking each of your non-Hyatt loyalty partners, ten in total, though you may want to wait for increased earnings on other programs before linking immediately
– 500 points for linking your Hyatt account before May 27

Note that the minimum to transfer is 2,000 points. I'd love to get the Bilt card to moon my account🚀 , but I'm sure I'd be shutdown for manufactured spend before the card even arrived in my mailbox, setting a new world record. Also, blah blah blah getting below 5/24 blah blah blah. (Thanks to VFTW)

OfficeMax/Office Depot has $15 back on $300 or more in Mastercard gift card purchases, bringing your net cost below face-value even without rewards or other shenanigans. To maximize the deal:

– Link each of your Ink or other office supply bonused cards to a Dosh account
– Try and get multiple transactions in a single trip

These are Metabank gift cards, so make sure you've got a liquidation channel. They do exist nationwide but you've got to look.
Happy Wednesday friends!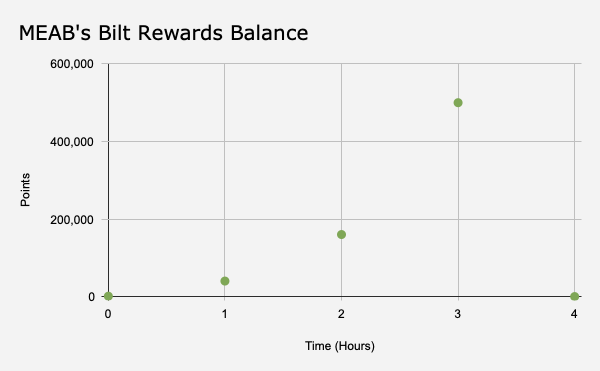 The world record setting rewards balance plot.