I'm going off-brand with today's post, but stick with it, it'll be worth it I promise.
Introduction
I use ITA Matrix essentially every single time I'm looking at airfares and often for reference when I'm searching for award travel. Not only that, but it's quite possibly the most powerful tool that exists for an advanced travel hacker when dealing with airline tickets: It's great for hidden city ticketing, fuel dumps, free one-ways, forced fare buckets, aircraft selection, forced routing through a particular hub, and avoiding married segments to name a few. There's so much to this tool, and I'm going to make this post the first in a series about ITA Matrix for travel hacking, starting with Delta companion tickets.
There are two types of Delta companion tickets: 1) The domestic Main Cabin variant that you get with the Delta Platinum card, and 2) the domestic Main Cabin, Comfort+, or First Class variant that you get with the Delta Reserve. There's a lot of nuance to where you can use these tickets, but for the most part just assume that you can use them on any round-trip Delta route within the continental US's lower 48 states.
Fare Codes
When you purchase airfare or redeem miles, you're booking into a specific fare class which is potentially different for each and every leg. Delta companion tickets require specific fare bucket availability for your itinerary:
Platinum: L, U, T, X, and V
Reserve: I, Z, W, S, L, U, T, X, and V (and W & S have further restrictions that in practice don't really matter)
So, to look for Delta Companion ticket availability, you need to be able to look for specific fare buckets. This is child's play with ITA Matrix. It also gives you better results than Delta's booking engine will, and often lets you find cheaper tickets that qualify for the companion fare than you'll find on Delta.com or by talking to an agent and having them search for you.
The Actual Search
Visit matrix.itasoftware.com
Make sure "advanced controls" are enabled (the link to enable them is right under the destination city)
Enter your "Departing From" and "Destination" airport codes (e.x.: LAX and ORD)
Enter DL+ in both the "Outbound routing codes" and "Return routing codes", which forces the engine to return only Delta flights (bonus tip: enter DL without the '+' if you want only direct flights)
Enter the fare buckets for a companion certificate in both the "Outbound extension codes" and "Return extension codes". This one is rather obtuse, so cut and paste the following:

Platinum variant: f bc=L|bc=U|bc=T|bc=X|bc=V
Reserve variant: f bc=I|bc=Z|bc=W|bc=S|bc=L|bc=U|bc=T|bc=X|bc=V

Enter your dates
Choose 2 adults
Click "Search"
I'm going to break my "one picture per post" rule in this series because I know some of you are visual learners. My search box for a Reserve companion ticket will look like this: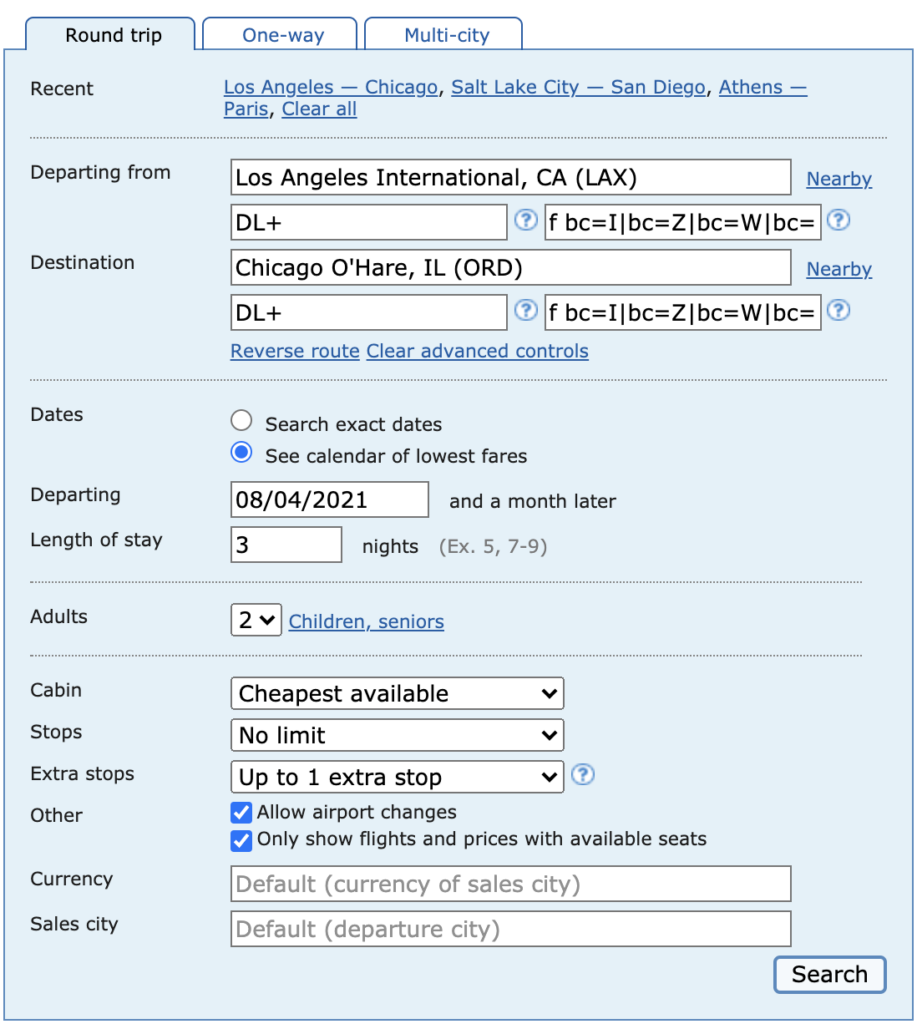 Booking
Normally I use bookwithmatrix.com for booking anything from ITA Matrix because you just cut and paste the booking results table into that website and it'll forward you to Delta (or another OTA if you choose) with the exact flights and fare buckets already pre-filled. With companion tickets though, Delta doesn't let you do that; instead, you'll have to start your booking at delta.com/redeem and go from there.
If you can't replicate the results ITA Matrix produces with Delta's booking engine, first try setting up your airfare using a multi-city search. If that doesn't work, you can call and give the agent each of the exact flight dates, flight numbers, and fare codes and they can manually book it for you. I've only had to do that a single time though, so it's likely a rare occurrence.
Fin
I use all of my Delta companion certificates every single year, and they're really valuable.
A final travel hacking tip: Delta says you need to use your co-branded Delta American Express card to pay for airfare when using a companion ticket. Don't trust them, they lie. Any American Express will do, like the Personal Platinum which awards 5x on airfare.